Tilos Island Holidays
The small picturesque island of Tinos is situated in the middle of the Dodecanese, between the islands of Halki and Nisyros, and is a great choice for an authentic and peaceful Greek island holiday.
Like other islands found in the Dodecanese, Tilos is an island with a very interesting history, starting from the ancient times. Discoveries at the "Harkadios Cave" have shown that the first inhabitants of the island were living there 6000 years ago.
Tilos is an island of immense beauty, and it ideal for those who enjoy trekking. There are many interesting places to visit all over the island, and the various regions are situated between 3 to 9 km apart from each other.
The main port and one of the major villages of Tinos is that of Livadia. If you follow the coast road you will have the chance to visit Agios Stefanos, where you will find the impressive medieval lighthouse.
The capital of Tilos is Magelo Horio, which is situated approximately 7km from Livadia. There are some very interesting sites to visit here, such as the Castle of the Knights. This castle was built to protect the islanders from the savage pirate raids that used to take place.
Other points of interest in Tilos include the many Byzantine churches you will come across, as well as the Monastery of Agios Panteleimonas, which is home to a stunning array of impressive frescoes and icons.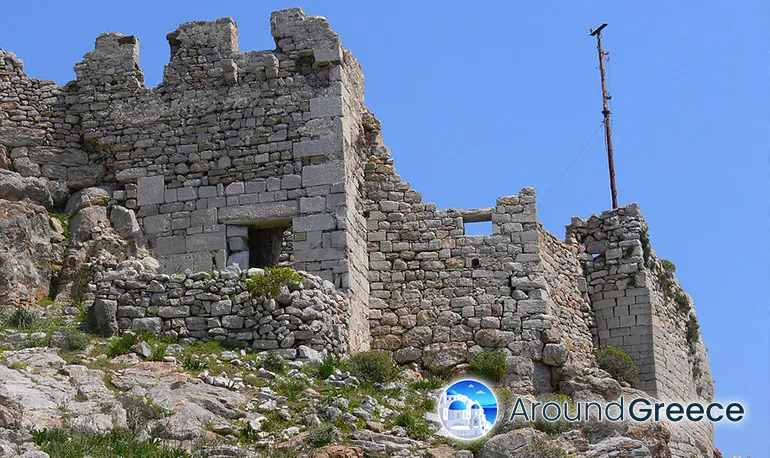 There are several nice beaches on Tilos that each have easy access. Two popular beaches are those of Plaka and Livadia. There are also beautiful places such as Theologos and Lethra that are only accessible by boat.
Tilos is an island that offers peaceful and relaxing holidays, surrounded by a charming landscape where the green and blue colours blend together seamlessly.
Visitors to the island will find a range of accommodation from hotels to rooms, studios and apartments to let. There are also several nice tavernas and ouzeris where one can sample a variety of cuisine, including some local specialities, as well as fresh fish.
Tinos has boat connections with Pireaus in Athens, as well as the neighbouring islands of Rhodes, Kos, Kalymnos and Astypalaia.
Header Image: CC-by-sa 3.0
Main Image 1: Максим Улитин, CC BY 3.0 Максим Улитин, CC BY 3.0, via Wikimedia Commons
Main Image 2: Pavlos11, CC BY-SA 3.0, via Wikimedia Commons