Explore Greece by Bicycle
Greece is the perfect European destination for cycling holidays, and the mild weather and natural beauty make it a paradise for cyclists. Whichever road you are on in Greece, you will never be more than 100 km from the sea, and with the majority of the country being rural, you can experience the magical landscapes and natural scenery that make it such a beautiful place to visit.
Cycling is an extremely popular sport in Greece and there is a longstanding tradition in cycling and the feeling of freedom and independence that it brings. There are so many wonderful routes and journeys that you can experience during cycling holidays in Greece. From the historic cities such as Athens and Thessaloniki, to the mountainous regions of Parnassos, Arcadia and Evritania, and the beautiful countryside, there are so many destinations for all types of cyclist.
There are a number of cities in Greece where you can find bike lanes, that will allow you greater freedom and access to explore the cities at your own leisure and pace. You'll find these lanes in cities including Thessaloniki, Volos, Kavala, Trikala and Larissa. Unfortunately Athens has yet to provide a comprehensive bike lane system across the city, though there are some local municipalities that do have them.
There are approximately 80 cycling clubs and organizations throughout Greece and cover all types of cycling from mountain biking to BMX bikes. Many of these clubs organize cycling tours around the country and you can easily plan your cycling holiday to Greece by arranging various tours with one of the many providers and organizers.
In Greece there are three EuroVelo Tours, though these have not yet been officially realized. The three routes are EV8, EV11 and EV13. EuroVelo is a project that was started by the European Cyclists Federation that had the aim of developing a network of cycling routes connecting all of Europe.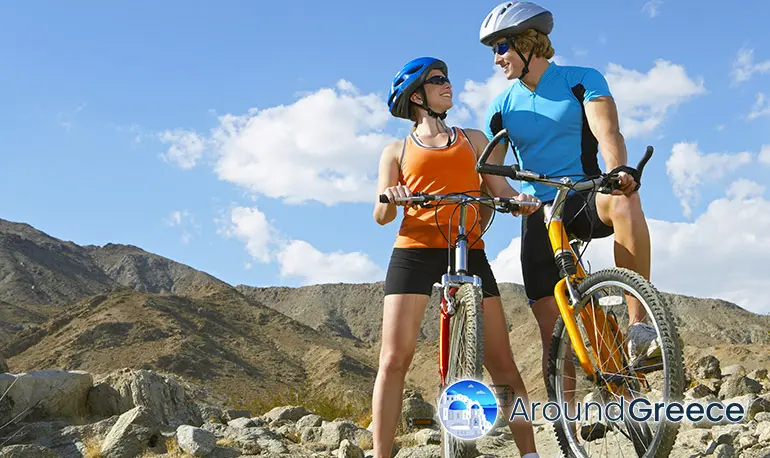 On the mainland, you will find a great selection of beautiful locations to enjoy cycling tours. The Peloponnese region in the south of Greece is filled with lots of great places where you can cycle and explore the area, as well as visit some of the fascinating archaeological sites that are located there such as Ancient Olympia, Epidaurus and many others. The Pelion peninsula is also a popular location for cyclists and here you can enjoy a combination of peaceful coastal roads and winding mountainous trails, providing a great workout and also a complete experience of the diversity of the area.
Athens and the greater Attica region is a great place to cycle, and you can enjoy the beautiful coastal road that reaches the southern point of Sounio. The islands of the Argosaronic are also just an hour or so away by ferry boat, so you could easily pop on a ferry and take the short trip over to Aegina or Poros, and enjoy cycling around these lovely little islands.
You can also enjoy some great cycling experiences on the many Greek islands. On some of the smaller islands, cycling is the perfect method of transport for exploring the island, and you can easily travel around the entire island in no time at all. Some of the larger, such as Crete, Naxos or Evia, have many different routes and roads that you can follow, and you can cycle along with the north or south coasts, or even crisscross between the two.
There are a lot of alternative tourist agencies who can help arrange cycling tours for you when you visit Greece, and many can provide you with the bicycles and all equipment you might need. The spring and autumn seasons are the best for cycling in Greece, as the weather conditions will be a lot better, but whenever you are planning on travelling, you can be assured that Greece is one of the most beautiful and unique destinations for cycling holidays.