Skyros Island Holidays
The beautiful island of Skyros is one of the hidden jewels of the Aegean. Though part of the Sporades chain of islands, it is actually located away from them to the south east, and is east of the island of Evia.
Skyros is a truly unique island and one that offers visitors a perfect destination for their holidays to Greece. With some stunning sandy beaches, beautiful scenery and a wonderful range of local cuisine, Skyros will capture your heart and imagination.
Throughout the years, Skyros has managed to preserve its traditions and appearance, and has not been affected by mass tourism. You will not find an endless road of bars with loud music or restaurants serving up all types of world cuisine – everything here is local and traditionally based.
The island is literally split into two, with the northern half being where you will find all the villages and places of interest, and the southern half is very barren and isolated. The capital town of Chora on the eastern side of Skyros is a place that all travelers will visit, and from here, you can enjoy some wonderful views stretching over the famous beaches of Magazia and Molos.
Skyros is well catered for tourism and you'll find an excellent range of hotels and accommodation. There will be something for everyone's budget and requirements.
If you are looking for an authentic Greek island then Skyros should be at the top of your list. It is a place of immense natural beauty, and is the perfect destination for a relaxing and enjoyable holiday in Greece. If you visit our website Around Skyros, you'll find a complete guide for your holidays in Skyros.
How to Get There
Skyros is accessible by sea and air. The easiest and most popular way to reaching Skyros is by ferry. The Skyros Shipping Co operate the Achilleas ferry boat which has daily connections between the island of Skyros and the port of Kymi, which is located on the eastern side of Evia island.
The journey time between Evia and Skyros takes approximately 1 hour and 40 minutes. The port of Kymi is about two and a half hours drive from Athens, and there is also a national bus services connection.
You can also find flights to Skyros, as there is an airport located in the northern part of the island. There are domestic flights to Skyros from around Greece. If flying from overseas, you will need to fly to either Athens or Thessaloniki and then take a domestic flight to Skyros.
Villages in Skyros
There are a number of picturesque and impressive villages scattered around the northern part of the island. The capital town of Skyros is Chora, and most visitors to the island will make a stop here. Some of the other popular locations include the coastal towns of Magazia and Molos where you will find the famous sandy beach. Below is an overview of the villages of Skyros.
Chora
The capital town of Skyros is Chora (though it is also refered to as Skyros town). It lies on the top of a large hill that overlooks the northeast side of the island. Crowning the top is the castle (kastro) which was a Byzantine fortress built on the top of the acropolis. The castle was originally built to defend against pirate attacks as it provided the best view point out over the sea. The monastery of Agios Georgios is located inside the castle, and visitors can make a stop here to visit the monastery and also enjoy the amazing views.
Chora is a very authentic and traditional town with square whitewashed houses, colourful garden filled with flowers and the a maze of narrow streets and alleys. All visitors to Skyros will pay a visit to Chora and take a walk around the winding roads. In the main square of the town you will find a large open space where you can take a seat and enjoy a drink and something to eat. There are lots of small shops offering a range of gifts, clothes, jewellery and other products.
There is another square in Chora called the Square of Eternal Poetry and here you will find a large bronze statue that was erected in honour of the poet Rupert Brooke, who was buried on the island. From this square you can enjoy some wonderful views over the sandy beach of Magazia and Molos.
In the town you will find a number of hotels and other facilities offering accommodation. Chora is a great place to be based when visiting Skyros, but if you do want to enjoy some of the beaches or explore other parts of the island, then having your own transport would be advisable. When you do visit Chora, be prepared for some uphill walking and wearing practical shoes is a must. At the bottom of the village are various spaces where you can park your car or bike if you are visiting from another part of the island.
Achenoures
Achenoures is a village located on the central west coast of Skyros, approximately 10km south of Chora. It is a popular coastal town and many visitors to the island come here to enjoy the lovely beach and cool waters. The shallow waters and the well protected bay make this beach and town very popular with families or those travelling with young children.
The chapel of Panagia Meglou is located in the village and each year on the 15th August a large religios celebration takes place. Everyone is welcome to attend and join in with the festivities. The natural scenery and charming landscape make Acherounes a very picturesque and relaxing part of Skyros. The port of Linaria is just a 10 minute walk and there you can find a range of cafes or tavernas, as well as a choice of accommodation.
Aspous
The coastal hamlet of Aspous is situated on the east coast of Skyros, on route from the port of Linaria to the capital of Chora. The town is very picturesque and offers some great views stretching out over the blue waters of the Aegean sea. It is the perfect place to enjoy a walk about and take in the beautiful scenery.
The neighbouring bay of Achilli operates as a small harbour for the region, and according to mythology, is where Achilles set off on his journey to Troy. In Achilli you will also find the small chapel of Agios Nikolaos, and top of the hill is another chapel, Profitis Elias, from where you can also enjoy some great views.
Aspous and Achilli are both popular beach locations and are good choices for swimming. You can find a small number of hotels and accommodation in Aspous, though if you are planning on visiting Skyros during July or August, it would be advisable to book your accommodation in advance.
Atsitsa
The beautiful coastal town of Atsitsa is located on the north-west side of Skyros and is a very picturesque part of the island, with the dense green forest and vegetation reaching right down to the blue waters of the Aegean.
Atsitsa is situated approximately 19 km from the town of Chora and is one of the most unique and beautiful bays on the island. The name comes from the small island that is located very close to the shore. The bay used to operate as a harbour for the iron mines in the region and visitors today can still see the large stone structures that connected the mines to the sea.
If you are looking for a place in Skyros to really appreciate the natural beauty and peace of the island then Atsitsa is the ideal place for you to visit. The cultural centre that is located here arranges a number of different events that visitors are welcome to attend. The beach of Atsitsa is a great place to enjoy a refreshing swim, and sailing and windsurfing are also popular here.
Located 8km north of Atsitsa is the area of Markesi where you will find the chapel of Theotokos. This chapel was actually built on the same place as a Paleo Christian Chapel and a building dating from the ancient years, which was later discovered to be temple dedicated to Poseidon. Ancient carved graves were also found here. If you are visiting Skyros and have your own transport, then you really should try and pay a visit to Atsitsa and explore this incredibly beautiful part of the island.
Kalamitsa
Located on the central west coast of Skyros the town of Kalamitsa is a traditional and picturesque hamlet with a very long beach and a delightful bay. This part of the island is very popular with windsurfers and there is a windsurfing club near the north end of the beach.
The area is very peaceful and quiet, so if you are looking for a place to unwind and relax, then Kalamitsa is a good choice. There are a couple of tavernas where you can enjoy a meal and there are a few places offering accommodation should you wish to stay in the area.
A short distance away to the west is the port of Linaria, while close by to the Air plateau is the grave of Rupert Brooke, a British poet who died here during the first World War. The bay of Tristomo is a very picturesque area and was used by Allied forces during WW1. If you enjoy walking and exploring, then Kalamitsa is a great starting point for your ventures into the southern parts of the island. There are also some very interesting coves and sea caves along the coast, though most of these are only accessible by boat.
Linaria
The port town of Linaria is located in the central west side of Skyros and is a very picturesque and beautiful town, that offers arriving visitors the chance to sample the natural beauty and charm that can be found all over the island. There are taxi and bus services that can take visitors to their final destinations on the island, as well as the possibility to rent a car or bike.
Linaria is approximately 10km from the capital town of Chora and is the arrival point for all visitors arriving by ferry boat from Kymi in Evia. You can find a number of small tavernas and places to enjoy a drink around the port, which is very picturesque, especially during the evenings. On the top of the hill overlooking the harbour is the church of Agios Nikolaos, and from here you can enjoy some very nice views as well as beautiful sunsets.
In Linaria you can find a small choice of accommodation, though it is advisable to pre-book your accommodation should you be visiting during the peak months of July and August. You can also find accommodation in Acherounes, which is just a short walk from Linaria.
If you would like to enjoy a sailing excursion, then there are daily boats that depart from Linaria that offer interesting boat trips. If you take a boat trip then you can travel around the coast and see some of the beautiful sea caves as well as the small islet of Sarakiniko where you will find the beautiful sandy beach of Glyfada. Linaria is much more than just the arrival point for many visitors to the island. It is a charming town in its own right, and has much more to offer than would appear at first glance.
Magazia
Located on the east coast of Skyros, under the capital town of Chora, is the coastal resort of Magazia, which is home to the most beautiful beach on the island. Magazia is considered by many to be the beach part of Chora as it is only a 10 minute walk downhill, though it is definitely a village in its own right. The name is derived from the gunpowder magazines that were stored here during the Venetian times.
During the summer months you will find the beach filled with people who have come here to swim and relax in the sun. The beach thought is never crowded, and you can always find a nice quiet place to lie back and relax. The beach of Magazia is a very long and sandy one which connects in the north with the neighbouring town of Molos. The waters are shallow and crystal clear, making it a great place for kids to swim. You will find sunbeds and beach umbrellas available on the beach, most of which are supplied by the cafe bars operating on the beach.
In Magazia you will find a number of hotels, apartments, studios and other accommodation. The town is one of the most popular in Skyros for visitors to stay, and though development to the area is always taking place, it has maintained its traditional and authentic feel. There are a couple of places to eat or have a drink in Magazia, as well as a mini market and some other local shops. Where Magazia ends in the north, Molos begins, and it is almost as though the two villages are actually just one.
Molos
The north-east town of Molos is connected to Magazia by the beautiful sandy beach, and is a popular destination for visitors to Skyros. In past years, there was a clear separation between Molos and Magazia, but over the recent years, development has almost connected the two neighbours into one lovely coastal resort.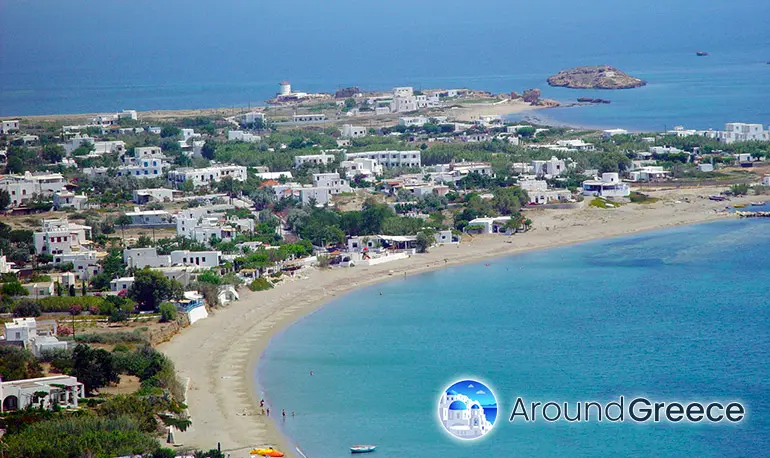 To the north of Molos is a unique area called Pouria where you will find some amazing rock formations and carvings. It is here in Pouria that you will find the church of Agios Nikolaos which is a truly distinctive and unique church that was carved out from a rock. The area was previously a quarrey as is evident from the rocks and formations you will see when visiting here. There is also an old windmill that has been carefully restored and which operated as a cafe bar and tavern.
Molos is a little more quieter than Magazia, and is a perfect place to head to in order to enjoy nothing more than the sounds of the sea lapping up against the store. There are a number of hotels and accommodation in the area, and with easy access to Magazia and the town of Chora, it's a nice place to be based if you want to have a relaxing holiday in Skyros.
Pefkos
Situated on the west coast of Skyros, approximately 11km west of Chora, is Pefkos, a very picturesque part of the island surrounded by gorgeous natural scenery. It is one of the most beautiful areas in Skyros and is a place that everyone should try to visit.
At the colourful harbour you can enjoy a relaxing walk and watch the fishing boats sail in. The entire area is a very authentic and traditional one and is ideal for those who are looking for a place to unwind and enjoy the peaceful scenery and relaxed setting.
There are a few nice beaches in the area where you can enjoy a swim. The main beach in the hamlet is a lovely spot, and there are also some nearby beaches that are worth visiting including Agios Fokas and Diapori.
On top of the mountain that overlooks Pefkos is the charming chapel of Agios Panteleimonas. Each year on the 27th July a religious festival takes place honouring the name of the saint. You can go up to the chapel any time of year, and when you reach the top you can enjoy the amazing panoramic views that stretch out over Pefkos and the blue waters of the Aegean.
Another place worth visiting is the hamlet of Agios Fokas, which is home to a lovely beach and another delightful chapel. The journey from Pefkos will take you past some wonderful scenery where you can fully appreciate just how beautiful the island of Skyros really is.
Hotels and Accommodation
You will find a great selection of accommodation in Skyros. The most popular location is the north east coast and the towns of Magazia and Molos, where you can find lots of accommodation right next to the sea and the famous sandy beach. You can find hotels with full facilities, as well as apartments and rooms to let. Whatever type of accommodation you are looking for, you will be able to find something for your budget.
For more information about accommodation, head over to our section about hotels in Skyros, where you can find details of a range of accommodation on the island. Alternatively, you can visit www.SkyrosHotels.com which has information about hotels all around Skyros, or www.neoptolemos.gr which is the association of accommodation on the island.
Suggested Hotels in Skyros
Pelagos Rooms
Located in the coastal town of Gyrismata in North Skyros is Pelagos Rooms - a beautiful selection of 2-room apartments and studios that are all fully furnished and equipped with everything you will need to enjoy a relaxing holiday just meters away from the sandy beach.

Tel: ( + 30 ) 22220 91764
Website: www.PelagosRooms.com
---
Perigiali Hotel
The Perigiali Hotel is located in the popular coastal town of Magazia, very close to the famous sandy beach. You can find a great selection of quality and comfortable rooms at the hotel, as well as excellent guest facilities including the swimming pool, pool bar and breakfast area.

Tel: ( + 30 ) 22220 92075
Website: www.Perigiali.com
---
Angela Hotel
The Angela Hotel in Molos offers an excellent selection of accommodation in a beautiful location just a short walk away from the famous beach. The hotel has a selection of double, triple and guestrooms available, in addition to some great facilities for guests such as the colourful garden area and swimming pool.

Tel: ( + 30 ) 22220 91764
Website: www.AngelaHotelSkyros.com
---
Eleana Studios
The Eleana Studios in the delightful coastal resort of Molos, you will find a lovely selection of comfortable studios and accommodation for your holidays in Skyros. All rooms and studios are nicely furnished and have air condition, TV and fridge. For those travelling as a family, there is also an apartment that can sleep 4 people available.

Tel: ( + 30 ) 22220 91764
Website: www.EleanaStudios.com
---
Agalipa Studios
At Agalipa Studios in Gyrismata you will find a great selction of fully furnished and very comfortable studios that are ideal for your holidays in this beautiful and very peaceful part of Skyros. The studios have independent access,private terrace, living room, Fully equipped kitchen, stove, fridge, air condition and other room facilities.

Tel: ( + 30 ) 22220 22220 92456
Website: www.Agalipa.gr
---
Beaches in Skyros
Skyros is a perfect island to visit for those who enjoy beautiful beaches. The entire island is covered with picturesque hamlets, many of which are fully developed for tourism and which offer all of the necessities of the modern traveller.
Some of the most popular coastal resorts, that offer fine beaches, include Molos and Pera Kampos. Molos, and the neighbouring resort of Magazia (above image) have some wonderful beaches, that are perfect for swimming and relaxing.
Close to the town of Linaria are the beautiful beaches of Kalamitsa, Acherounes and Pefkos. The north side of Skyros, which is covered with pine trees and has a very green and peaceful setting, visitors will find many other charming beaches.
At Yalos, which is a popular touristic coastal resort, there is a very beautiful beach, which according to myth, was where the mythical hero Achilles used to swim.
One very large beach that attracts a huge number of visitors is that of Gyrismata (above image), which is approximately 1km in length. This beach is perfect and the crystal clear waters are most refreshing, especially during the hot summer months.
Another very beautiful and popular beach is that of Glyfada, which is located on the small islaet of Sarakino. There are daily tripes from Linaria with caique that can take visitors to the Glyfada beach, as well as to visit the caves of Pentekali and Diatrypiti.
Located 18.5km to the west of the capital town of Chora is the village of Atsitsa. Here you will find the charming bay of Agios Petros (above image), which has a beautiful sandy beach, surrounded by cedar trees. There are also some lovely beaches at Petritsa, Kira Panagia and Theotokes.
Visitors to Skyros will not be disappointed with the beauty and quality of beaches that can be found all around this wonderful island. There are so many to choose from, and each has it's own special qualities and charm.
Some beaches has facilities such as cafe bars, tavernas, as well as a range of accommodation located at close proximaty. Others are very isolated, peaceful and untouched. Exploring the island is the best way to find the type of beach you are looking for.
Activities in Skyros
Skyros is a perfect holiday destination, and an island with many things to do and some wonderful activities. As well as the beautiful beaches that can be found all around the island, there are many other recreational activities that visitors here can enjoy.
The island of Skyros is famous for the sandy coasts all around the island such as Magazia, Yalos, Molos, Theotoko, Kira Panagia, Atsitsa, Acherounes, Tris Brookes, Renes and many more. As well as swimming at these beaches, there are also popular for fishing and also underwater fishing with harpoon guns.
The lobsters that are found in the waters of Skyros are also very famous, and visitors here can sample these at some of the various restaurants and tavernas around the island.
If you are actually interested in fishing for lobsters, you can try and speak to the local fishermen, who may be able to give you some advice. There are some restrictions on lobster fishing in Skyros, and you must follow the rules and regulations that are set up.
Sailing is a very popular activity on Skyros, and if you travel here with your own boat, you can dock it at the port of Linaria – the main port of Skyros. Around the island are many beautiful and unique sea caves, especially on the south and north east side of the island.
If you are sailing near the area of Lithari, you will see the old light house, which was built in 1894. The scenery here is beautiful, and one that will stay with you forever.
For those who enjoy watersports, the beaches on the south coast of Skyros are where you should head to. The southern coasts attract a large number of windsurfers each year from all over the world.
The natural beauty of Skyros and it's morphology make is a wonderful place to enjoy trekking or 4×4 excursions. Various parts of the island, such as Mount Kohylas, the various sea caves around the coast, and the beautiful pine forests that cover over 30% of the island, make it one where visitors can explore the magic and beauty first hand.
Taking a tour around the island allows one to appreciate how beautiful and authentic Skyros is, and how it has successfully managed to preserve it's natural beauty and the traditional characteristics.
One place that is worth visiting if you have the opportunity is to pay a visit to one of the workshops in Skyros. Here you can see how the famous wooden furniture of Skyros is produced, and also the exceptional woven clothes and ceramics that are locally produced here.
Skyros has much to offer visitors in terms of recreation and various activities. It is an island that is blessed with immense natural beauty, and a place where you can enjoy a wonderful selection of holidays and travel throughout the year.