Chios Island Holidays
Chios is one of the most popular islands in the North East Aegean, and is famous for it's shipping and marine history. It is a very beautiful island, and one that is perfect for summer holidays.
The island is also famous for the tasty "mastic", a spice that is found only on this island. This comes from the Mastic Trees that are found on the island and which have many healthy properties within them.
According to many archaeologists, Chios was also the homeland of Homer. The island is one with an interesting history, and the there are several museums on the island that you can visit. These are the Archaeological, Byzantine and Marine museums. Displayed in each is a wonderful collection of artifacts, relics and documents, offering a fascinating insight into the history of Chios.
The old buildings in combination with the modern town of Chios and it's luscious greenery and rich vegetation create a very peaceful and tranquil setting. This imagery is one that will capture the hearts of all who visit the island.
Chios is well organised for tourism, and visitors to the island will find a superb selection of accommodation available including hotels, rooms, apartments and studios to let. Some of these accommodation establishments operate throughout the year, showcasing the popularity of the island, and the fact that it is a wonderful holiday destination all year round.
At a distance of 37km from the town of Chios is the beautiful region of Volissos. Here you can pay a visit to the Byzantine castle, which was built by the Byzantine General Velissarios.
Around this part of the island you will also come across a great choice of sandy beaches that are ideal for bathing and relaxing. The island has several interesting places that are worth visiting, such as Kardamylla ( Kardamilla ) with it's impressive neoclassical mansions, or Eborios, where you will find the beautiful black pebbled beach.
The picturesque area of Mesta is ideal for exploring, where you can enjoy and appreciate the natural beauty of the island.
If you are planning to visit Chios during the Easter period, you should try to visit the coastal village of Vrontada. Here you can experience and magnificent and unique Easter mass.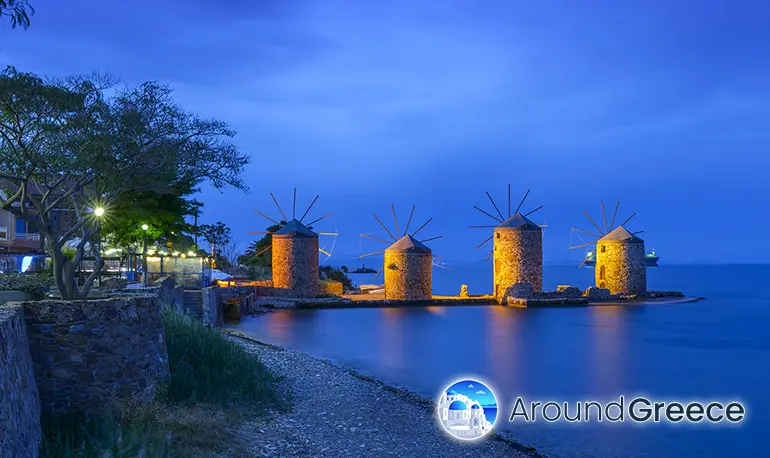 You can also witness the "rocket fires" between the two parishes of Panagia Erythiani and Agios Markos. Easter is the most celebrated holiday of the year in Greece, and Chios will provide you with a wonderful experience of this important event.
There are many wonderful tavernas and restaurants scattered all over the island where you can sample a great variety of tasty and freshly prepared cuisine, as well as some local specialities.
Chios has boat connections with Athens and Thessaloniki, as well as Kavala and Alexandroupoli. There are also local connections with other islands in the East Aegean sea.