Kea Island Holidays
The island of Kea, or Tzia as it is also known, is located only a few nautical miles from the beautiful cape of Sounio in Attica. The island is much closer to Athens than it is to the other islands in the Cyclades.
The island is one with a very interesting and rich history that dates back from the ancient times. Kea was very famous for the copper that it produced and the metallurgy the island developed.
Kea is a very popular island for summer holidays, and is also a very popular destination for short breaks or weekends away from the city of Athens. It is an island that attracts visitors throughout the year. It's close proximity with Athens and the port of Lavrio makes it one that many Athenians visit.
There are many interesting Byzantine monasteries and churches scattered in villages all around the island, as well as many interesting archaeological and medieval findings that are very popular for visitors.
The capital of the island of Chora (Hora), which was built amphitheatrically on the side of a hill. The town is one with all of the characteristics of Cycladic architecture, and with the combination of the refreshing blue waters, and the picturesque scenery, Kea provides a perfect setting in which one can enjoy some truly special holidays.
The main harbour of Kea is that of Korissia, which is situated at a distance of 5km from Chora. The harbour is the perfect setting for an enjoyable stroll, where you will pass by the attractive buildings, and the soothing sound of the sea.
Other popular villages on Kea including the picturesque Voukari, which is a popular meeting point for visitors to the island who have their own yachts. The beach area of Gialiskari is a very popular part of the Kea, as is the tourist resort of Koundouros, which is positioned south to the island of Kea.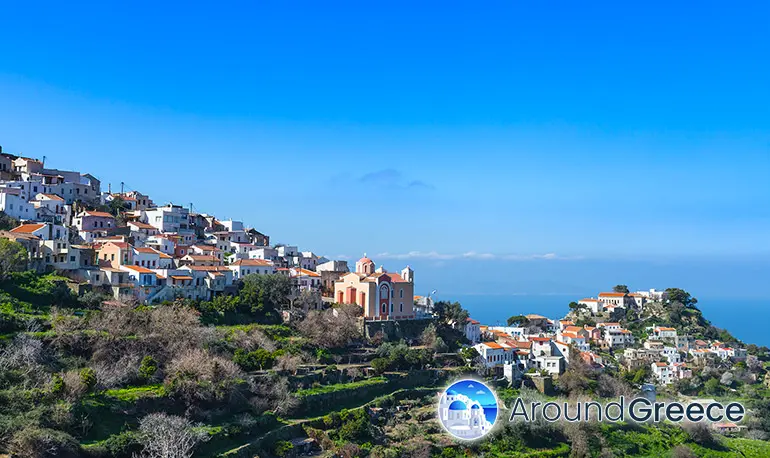 The village of Otzjas, which is built in a small bay that faces the southern part of the island of Evia, is very charming and well worth a visit. Visitors can also visit the small coastal hamlet of Pisses, which was built on the top of the ancient city that once stood here.
Visitors to Kea will find a great selection of accommodation including hotels, rooms, apartments and studios to let. There are also many traditional tavernas and restaurants where one can enjoy a fine meal and friendly company.
There are boat connections to Kea from Athens via the ports of Pireaus and Lavrio.