Viotia Holidays
The county of Viotia, situated to the north of Athens, is a region that is a delight to visit, whatever time of the year. With close access to the ski centre of Mount Parnassos, as well as some of the lovely beaches along the coast of the Corinthian Gulf, Viotia has all you will need for holidays filled with fun and activities, as well as peace and relaxation.
Combing the rocky slopes of the Parnassos mountains with the crystal waters of the coast, Viotia is the perfect combination of all of natures elements. The capital city of Viotia is Livadia, which is situated between two hills through which flows the Erkina springs.
The popular mountainous village of Arachova (Arahova) is also situated within the boundaries of Viotia, and this village is one that is extremely popular, especially during the winter season, when it is brimming with visitors who head to Parnassos to enjoy the facilities at the ski centre.
Viotia is a large region, and one that is filled with very interesting places and towns, as well as whole range of sites that are worth visiting whilst in the area.
Apart from Livadia and Arachova, there are some other beautiful villages filled with history such as "Heronia", which is situated near the battlefield where Philip of Macedonia defeated the forces of enemy Greek states in 338BC.
In Heronia, there are the ruins of the ancient Acropolis and theatre, as well as a delightful museum that houses various findings from the region.
Thiva is another town that is very interesting in an archaeological sense. As well as being one of the largest in Viotia, it was also the birthplace of Hercules. The archaeological museum here is well worth visiting, as well as the temple of "Ismenios Apollo" and several other places of great interest.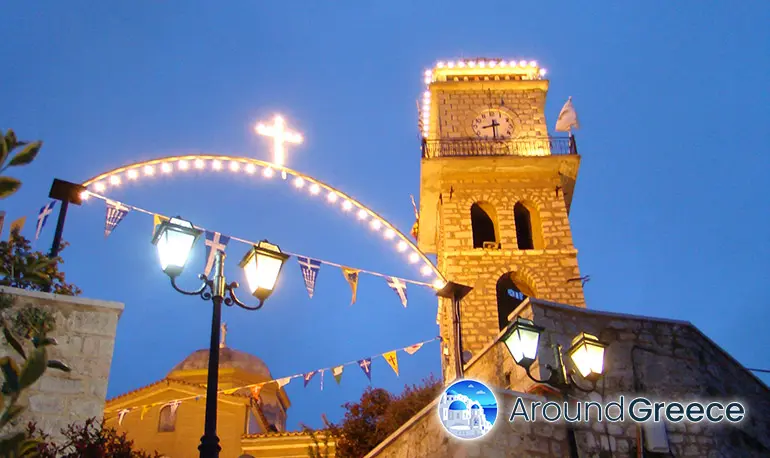 Viotia is a wonderful destination to head to for your holidays in Central Greece and the Parnassos region. From the mountains offering the perfect setting for ski during the winter, as well as perfect for trekking and exploring in the spring, there are also the lovely coastal resorts, which are perfect for relaxing and idle summer vacations.
It is also the perfect place from which to venture out and explore some of the other nearby counties, such as Fokida (home to the ancient site of Delphi), and also Fthiotida, which is a large county that reaches the east coast of Central Greece, and includes popular resorts such as Kamena Vourla and Agios Konstantinos.