Best Places to Stay in the Peloponnese
The Peloponnese region of Greece is one of the most beautiful and diverse in the whole country and provides visitors with a huge choice of wonderful locations and destinations for enjoyable holidays throughout the year.
From traditional mountainous villages to gorgeous beach resorts and a mix of amazing archaeological sites thrown in, the Peloponnese is a part of Greece that will have something for everyone. Whether you are looking for a holiday to simply relax and unwind or one where you can take part in a wide range of activities, then the Peloponnese is the ideal destination for you.
The entire region is one steeped in history and there are lots of fascinating archaeological sites and museums that you can visit that offer you a fascinating insight into the past. You can visit Ancient Olympia which is the birthplace of the Olympic Games, or head over to the ancient theatre of Epidaurus which has totally unique acoustics. There are also the sites of Mystras, Mycenae and Ancient Corinthos - all of which are worth visiting if you have the opportunity.
The Peloponnese is well developed for tourism and you will be able to find a huge choice of quality accommodation for your travels. Whether you are looking for a private luxury villa, or a simple studio or apartment, you will easily be able to find exactly what you want. There is accommodation available in the Peloponnese that will be suitable for everyones budget.
You can also find some great deals and special offers that are available throughout the year. This part of Greece is ideal for all seasons, and depending on the type of holiday you desire, you can find the perfect location with the perfect choice of accommodation for your stay.
Destinations in Peloponnese
The county of Achaia in the north west of the Peloponnese is an extremely popular destination for travellers in this wonderful part of Greece, and is home to ..... Achaia Hotels
The delightful region of Arcadia in the Peloponnese is a place on immense natural beauty and charm, and provides a variety of wonderful destinations for holidays throughout ..... Arcadia Hotels
The popular and highly picturesque county of Argolida is home to some of the most famous and much-loved holiday destinations in the Peloponnese, including ..... Argolida Hotels
The famous and majestic county of Corinthia, which connect the Peloponnese to the mainland, is one of the most visited parts of the region, and is home to many wonderful ..... Corinthia Hotels
The beautiful and historic county of Ilia is amongst the most impressive and important in the Peloponnese, and is the home of Ancient Olympia - birthplace of the Olympic ..... Ilia Hotels
The picturesque county of Lakonia on the eastern side of the Peloponnese is filled with wonderful places to visit and a wide choice of popular holiday destinations including ..... Lakonia Hotels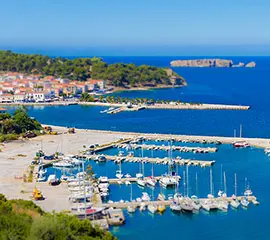 The beautiful region of Messinia on the western coast of the Peloponnese is a place that attracts huge numbers of visitors from the world over who enjoy holidays in lovely ..... Messinia Hotels