Best Places to Stay in Central Greece
Below you will find information about the various hotels and accommodation that are available in the region of Central Greece, which includes counties such as Viotia, Fthiotida and Fokida.
The region of Central Greece stretches from the east coast where you can find the resort of Kamena Vourla and the city of Lamia, right across the mainland taking in areas such as Arachova, Delphi, Galaxidi and over to the western coast where you'll find the popular town of Nafpaktos.
This is a truly unique and magical part of Greece and is the perfect combination of mountain and sea. During the winter months you can go skiing at the famous Parnassos ski centre which attracts visitors from all over the country and beyond. In the summer you can find a great choice of lovely coastal towns and enjoy relaxing holidays right next to the sea.
There are lots of great places and sights to see in this part of Greece. The most famous is the archaeological site of Delphi, a place of immense history and interest. Close by to Delphi is the famous mountainous village of Arachova, a perfect destination for winter holidays in Greece. Here you'll find a great choice of traditional guesthouses where you can stay.
Along the many coastal resorts and towns you can find a range of accomodation including hotels, studios and rooms to let. There will be something for everyones budget, so you can be sure you'll find something that suits your needs.
Destinations in Central Greece
The charming coastal town of Agioi Pantes is a wonderful destination in Central Greece for relaxing and enjoyable holidays by the sea. With easy access around the ..... Agioi Pantes Hotels
The famous and traditional area of Amfiklia in the Parnassos region of Central Greece is a very popular destination with visitors who are seeking an authentic ..... Amfiklia Hotels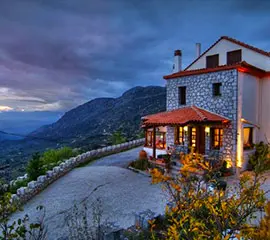 The majestic mountainous town of Arachova is one of the highlights of the beautiful Parnassos region of Central Greece. With some spectacular landscapes and scenery ..... Arachova Hotels
The famous and popular town of Delphi is one of the highlights of a visit to Parnassos. It is located a short distance from the hugely popular archaeological site ..... Delphi Hotels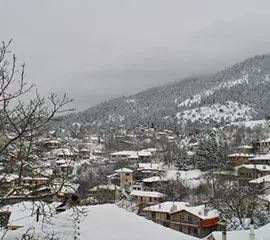 The wonderful area of Eptalofos in Central Greece is one of the most beautiful parts of the region, and here you can enjoy some magical landscapes and views ..... Eptalofos Hotels
The lovely coastal resort of Galaxidi is one of the most popular coastal towns in Central Greece, and is perfect for relaxing and peaceful holidays by the sea ..... Galaxidi Hotels
The picturesque coastal town of Itea is one of the most popular for travellers to Parnassos in Central Greece - especially during the summer months, when you can ..... Itea Hotels
The famous coastal resort of Kamena Vourla is a beautiful location for your holidays in Central Greece. With it's wonderful beaches, and huge selection of tavernas and ..... Kamena Vourla Hotels
The beautiful and traditional area of Karpenisi is one of the most charming in all of Greece, and the region attracts large numbers of visitors from all over, who come here ..... Karpenisi Hotels
The delightful town of Lamia in Central Greece is a very interesting place to visit, and has some excellent sights and places to see. The ruins of the old fortress that overlook ..... Lamia Hotels
The famous town of Livadia in the heart of the Parnassos region of Central Greece is always a popular destination for travellers to this part of Greece. With it's friendly ..... Livadia Hotels
The wonderful town of Nafpaktos, located to the west of Central Greece is a lovely coastal town, where you can enjoy rewarding and fun-filled holidays throughout the ..... Nafpaktos Hotels
The lovely area of Polydrossos in the Parnassos region of Central Greece is the perfect destination for those who are seeking a traditional holiday in an authentic setting ..... Polydrossos Hotels
Image Credits: Agioi Pantes - Hotel Galaxias | Amfiklia - Guesthouse & Studios Kiriaki | Arachova - Nefeles | Delphi - Alexandros Pension | Eptalofos - To Balkoni tis Agorianis | Galaxidi - Nautilus | Itea - Nafsika Palace | Kamena Vourla - Alma Hotel | Karpenisi - Melegos Hotel | Lamia - Hotel Samaras | Livadia - Hotel Levadia | Nafpaktos - Hotel Theasis | Polydrossos - Dryas Guesthouse
Central Greece Destinations